Sometimes standard lockers miss the mark and there is a need for a more bespoke unit to fill that need. Probe offer a group of Specialist Lockers that fulfil requirement such as an extra deep locker specifically designed for the Police in order to store extra equipment as well as uniform and protective clothing.  A Janitor's Locker with a vertical divider to separate either clothing or brushes and mops from cleaning material on shelves, a Clean and Dirty locker to separate casual clothing from work wear and uniforms and a High Capacity locker suitable for Emergency services such as Fire, Ambulance and RNLI.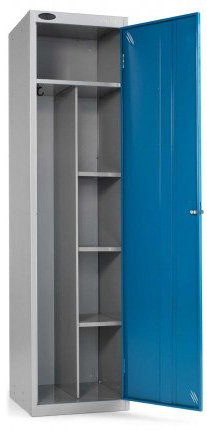 Available Colour Options
A choice of 7 Door Colours and 3 Body Colours - all with hygienic Anti-Bacterial coating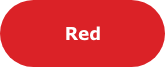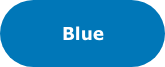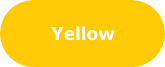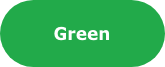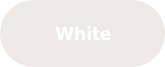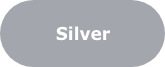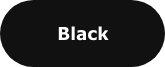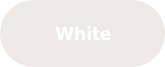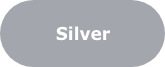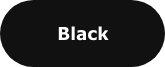 Dry Area Lock Options
Choose from Key, Padlock hasp, Mechanical and Electronic combination locks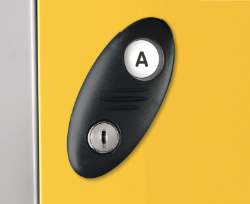 Probe Key Cam Lock*
The standard Probe key cam lock has a micro sprung 10 disc lock featuring a massive 3000 serial combinations - all exclusive to Probe. Two keys are included with each standard lock plus a master key is available for management.
*Included in standard locker price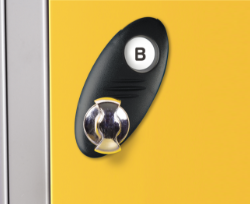 Hasp and Staple*
The Hasp and Staple lock is for use with a Padlock (not included) that needs to have a shackle diameter no larger than 7mm and a minimum of 5mm. it is available to purchase separately if you need to change your existing Probe key lock.
*Included in standard locker price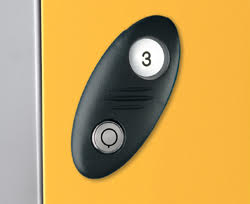 Radial Pin Key Lock 
The Probe Radial Pin Key Lock is designed for greater levels of security due to there being up to 10,000 available key numbers in the series. Two keys are included with each lock and a Master key is available for management use.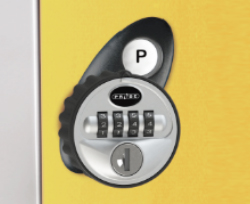 Re-programmable combination lock
User Re-programmable - An effective 4 digit code combination lock with 10,000 possible combinations, making losing keys a thing of the past. Suitable for multi user applications. Master override key sold separately.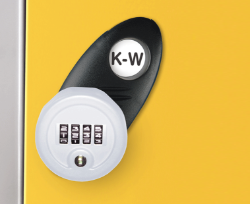 Premium Combination Lock
The Type K (black) or W (white) is extremely tough and fits existing Probe metal or solid grade laminate doors. It is re-programmable and easy to operate. It has a 4 digit code and can be set and easily changed by users using a Service Key sold separately.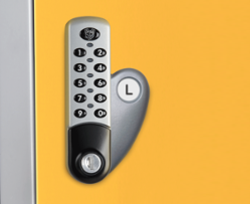 Digital combination lock - 40,000 combinations
Emergency access using service key - Simple to program - Batteries last up to 50,000 operations - Single user supplied as standard - Multi user option available - (specify when ordering) - Can be used horizontally, subject to minimum order quantity. Specify when ordering.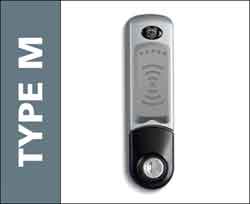 The RFID keyless digital combination lock
This lock provides contact less RFID locking and can be used independently or paired with existing wireless systems. Simple to upgrade existing installations and compatible with most wireless standards including RFID and NFC, the lock has a wide range of accessories.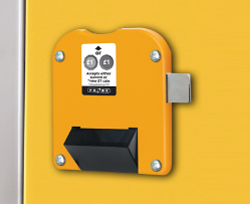 Dual coin / token return / retain
These locks are available with coin denominations £/€ or tokens, for either return or retain. Not available on some small door lockers, please check.
Not available on some small door lockers, please check.
Download Brochure
View full details and specification of Probe Specialist Lockers here
High Capacity Locker
Suitable for Emergency services
Extra Width - 610mm
Adjustable Shelf
Adjustable Shelf/Hanging Rail
Total size - 1780H x 610W x 460D mm
Police Locker
Suitable for Police body armour
Extra Depth - 550mm
Top Shelf
Twin Coat hooks
Total size - 1780H x 460W x 550D mm
Clean and Dirty Locker
Central Divider separates clean from dirty garments
Twin coat hooks in each side
Full width shelf at top for personal items
Total size 1780H x 460W x 460D mm
Two Person Locker
2 Personal lockers in space of 1 locker
2 compartments for hanging garments
2 Compartment for personal possessions
Common key for both compartments
Total size - 1780H x 46W x 460D mm
Twin Locker
Two Full height compartments saves space
Top Shelf in both compartments
Twin Coat hooks in both compartments
Total size - 1780H x 460W x 460D mm
Uniform/Janitor Locker
Central Divider
Twin Coat hooks on left for garments
3 Fixed shelves on right
Full width shelf at top for personal items
Total size 1780H x 460W x 460D mm